Britz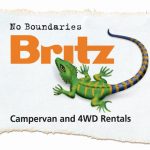 Totally4wdCampers has been offering the BRITZ 4wd campers for many, many  years.  Mainly in Australia, South Africa and Namibia.
Britz is part of Tourism Holdings Ltd (THL), the largest rental company of campervans and motorhomes in the Southern Hemisphere.
In Australia, Totally4wdCampers offer the BRITZ rental 4wd campers from:  Alice Springs, Darwin, Cairns, Brisbane, Adelaide, Perth and Broome.
Totally4wdCampers offer these great vehicles as well in South Africa and Namibia.  These are the Britz 4×4 campers with and without roof tent.
The most popular cities where these can be collected and returned are Johannesburg, Capetown in South Africa and Windhoek in Namibia.  There are also other cities for pickup and returning your rental camper.   See the quick search menu on this website.